Discipline in Key to Making Profits Trading Stocks
DISCLOSURE: This webpage may contain affiliate links. An affiliate link is a link which goes to a 3rd party website. After reviewing the information on the 3rd party website and if you choose to make a purchase, I would receive a small commission at no cost to you. You can read more on my Disclaimer page.

When stock trading, discipline can be the difference between a profit and a loss
Your stock trading education must include discipline. You can have the greatest system in the world but if you cannot follow it, what is the point?
Ask yourself this simple question, would you sell the stock shown in the picture below which is in an obvious bearish downtrend or hold onto it? If you cannot sell a stock with a stock chart which looks so bearish you may want to rethink your trading ambitions or you may want to rethink how good your discipline is.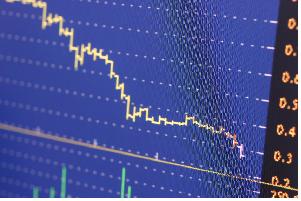 According to Van K. Tharp, in "Trade your way to Financial Freedom", psychology and discipline account for approximately 60% of your trading success. Tharp talks about people who can make money using a random entry system provided they use proper money management and self control.
If you set your sell stop and then move it down as the stock starts to go below your sell point, your will-power needs some work.
The first loss is generally considered to be the best loss.
You need personal control in all areas of trading:
Record keeping

Emotions
Can you control your trading? Look at your trading account. 
If it is increasing, it is because of you.
If it is decreasing it is because of you.
If it is staying the same it is because of you.
You are the driver, the decision-maker. Your results are due to you.
How do you improve your level of trading psychology? That is up to you. Self-control is an inner game. The profit in your trading game is a result of your inner world. Check out some of the inner game books by T. Harv Eker and Robert Kiyosaki reviewed in this website and look for ways to improve your discipline.